Every Monday 19:30 – 21:00 p.m. Registration in advance absolutely necessary Tel.: 0049-8042-8738
Registration also possible for single evenings and without basic knowledge.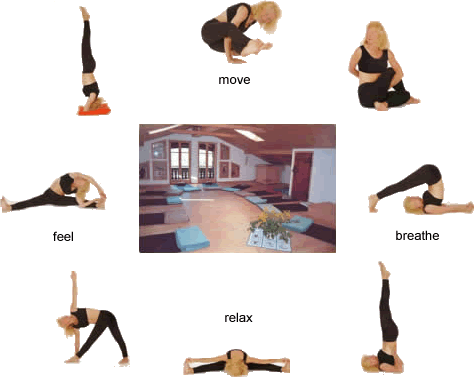 Instuctor: Elisabeth Wiest, Health Practitioner
Yoga student of Mrs. Thamm in Munich;
Intensive experience in personal training since 1983

10 evenings:€ 72,-
Test class / single evening € 8,-

The intention of my hatha-yoga training is to remind people of a caring relationship with their body, their breathing and their thoughts, and to lead them to a more conscious body perception.
Through different positions of our body (asanas), muscles and joints will be trained evenly, strengthened and kept flexible (or returned to flexibility with more training).
The inner organs will also be invigorated, glands will be stimulated, blood circulation and immune system will be strengthened.
Through yoga breathing (pranayama) the intake of life energy (prana) is stronger and the permanent flow of thoughts and emotions can be calmed down.
Self-esteem and the ability to concentrate will be advanced. The final deep relaxation and meditation is meant to guide everyone a step closer to his true inner self.