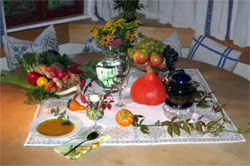 In addition to the group program:

there are 8 special foot baths to help the body detoxicate, and individual treatments of one head Shiatsu (Japanese thumb pressure massage) per person, ear candle treatment, aroma back massage, traditional, manual Japanese meridian treatment, aroma foot massage.

The price of € 580,- includes the services listed above as well as the separate treatments listed below.
Additional charge for single room € 11,- per night.

Additional treatments as well as prolonged or shorter fasting time can be arranged.
More information about therapeutic fasting in accordance with Dr. Buchinger
Fixed weeks/days see schedule.